What's the font used in the ACDC band's current logo?
The font used in AC/DC's current logo is very similar to the Squealer font, which was designed by Typodermic Fonts and published in 2012. Squealer is a bold blackletter font with chiseled edges that make it the perfect choice for headlining hard rock designs. It is a versatile font that supports various Latin-based languages and is suitable for a wide range of design projects. The font's design is inspired by the band's iconic lightning bolt symbol and is ideal for creating designs that capture the energy and dynamic spirit of ACDC.
In 2022, the Squealer font was updated to add new features and improve its overall design. The font is now under a CC0 license, which means it is free to use personally and commercially. This makes it a great option for designers looking to create designs that pay homage to the iconic rock band without incurring any additional costs.
Overall, the Squealer font is a perfect representation of the band's image and helps in creating designs that are bold, striking, and recognizable, just like the ACDC logo itself. This font is a great choice for anyone looking to create designs that capture the spirit of hard rock and the electrifying energy of ACDC.
Font Custom preview
ACDC's logo and font history
ACDC, the legendary rock band, has a rich history spanning several decades, and their logo and typography have evolved throughout their career. From 1973 to the present, the band has used different typographies and logos to represent their music and style, and to reflect their spirit and identity.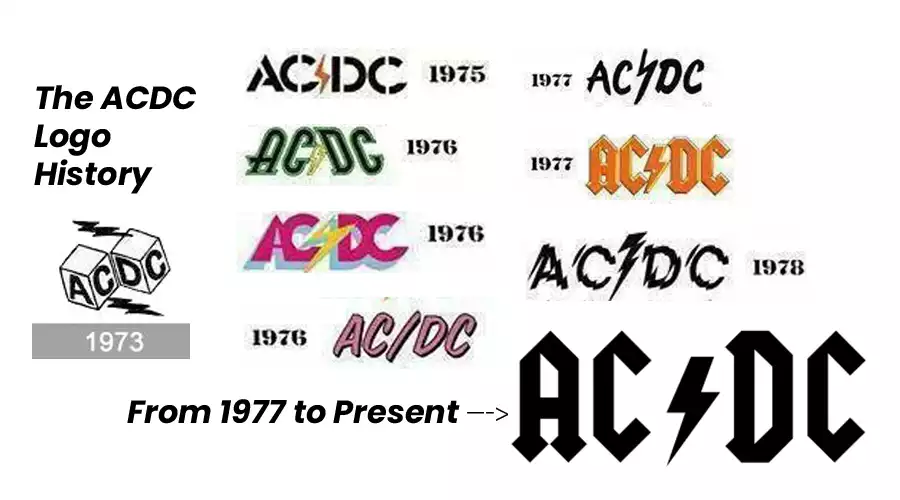 1973 Logo: The 1973 logo features the letters "AC" and "DC" inside separate boxes with an electrifying symbol connecting them, representing the band's name. This logo is simple and iconic, reflecting the band's origins and early era. It was used in the band's early promotional materials and merchandise, and it became one of the band's most recognizable logos throughout their career.
1975 Logo: The AC/DC band logo that was used in 1975 was a simple black and white design featuring the band's name in bold, stylized letters. This design was similar to the Glaser Stencil font, which has a clean and geometric look. This logo was used on their debut album, High Voltage (1975), and other promotional materials; it's one of the first logos used by the band, and it was part of their early era.
1976 Logo: In 1976, the band used three different types of logos on their albums.
1977 to 1978 Logo: The current logo is from 1977; in 1978, they tried to change the logo but later finalized the 1977 version. From that time until 2023, they are using the logo.
The design of the logo has been changed a few times throughout the years, but the lightning bolts have remained in most of them. The current logo has become one of the most iconic and recognizable in rock music and can be found on various forms of merchandise, including t-shirts, hats, and posters.
About ACDC: The Legendary Rock Band
ACDC is a legendary rock band that has been entertaining audiences around the world for nearly five decades. Formed in 1973 by brothers Malcolm and Angus Young, the band quickly made a name for itself with its hard-driving guitar riffs, powerful vocals, and energetic live performances. Throughout its career, ACDC has sold more than 200 million records worldwide and has been recognized as one of the most influential and enduring bands in rock music.