Metallica font is a unique typeface that has many similarities with the font used on Metallica's albums, including the usage of almost identical characters. All upper-case letters are included in this font, except for umlauts. While Pastor Of Muppets was used for the logo, both typefaces are equivalent and may be utilized in a design. In all these years, the band has released several albums. The logo for each album has a different typeface on it.
What Font Was Used in the Metallica Logo?
The font used in the Metallica logo is called "Pastor Of Muppets," but people also search for it as "Metallica font." It was created by Larabie Fonts and was used for the logo of the popular heavy metal band. The font was published in 1997 and copyrighted under the designer name "Ray Larabie." It is available as a free download for personal use only.
Metallica Font Usage
The Metallica font is a perfect choice for fans of the band and anyone looking to add a heavy metal touch to their design projects. It is a bold and distinctive font that captures the energy and intensity of Metallica's music. Metallica typeface, however, should not be used in long paragraphs since it was not meant for this purpose.
Whether you are creating a poster, album cover, or any other type of graphic design, the Metallica font is sure to make a statement. Whether you are a fan of Metallica or just love the look of the font, the Metallica typeface is a great choice for any project.
About the Metallica Band
Metallica is a heavy metal band from the United States that was formed in 1981 in Los Angeles by James Hetfield and Lars Ulrich. The band is known for its fast tempos, aggressive musicianship, and instrumental skill, which have earned them a place as one of the "big four" of thrash metal alongside Megadeth, Anthrax, and Slayer. The current lineup of the band includes Hetfield and Ulrich, along with lead guitarist Kirk Hammett and bassist Robert Trujillo. Former members of the band include guitarists Dave Mustaine and Ron McGovney, as well as bassists Cliff Burton and Jason Newsted.
Metallica has released a total of ten studio albums, four live albums, a cover album, five extended plays, 37 singles, and 39 music videos. The band's first album received critical acclaim, and their third album, "Master of Puppets," released in 1986, is considered one of the heaviest metal albums of all time. With the release of their fifth album in 1991, Metallica was able to appeal to a more mainstream audience, and the album became a commercial success, selling over 16 million copies in the United States.
Throughout their career, Metallica has won numerous Grammy Awards and has become one of the most commercially successful bands in the world. They have a strong following in the underground music community and continue to be a major force in the heavy metal genre.
Metallica Font Generator
Font View
First, let's have a look at the font's style and how it will seem in your tasks before we go any further.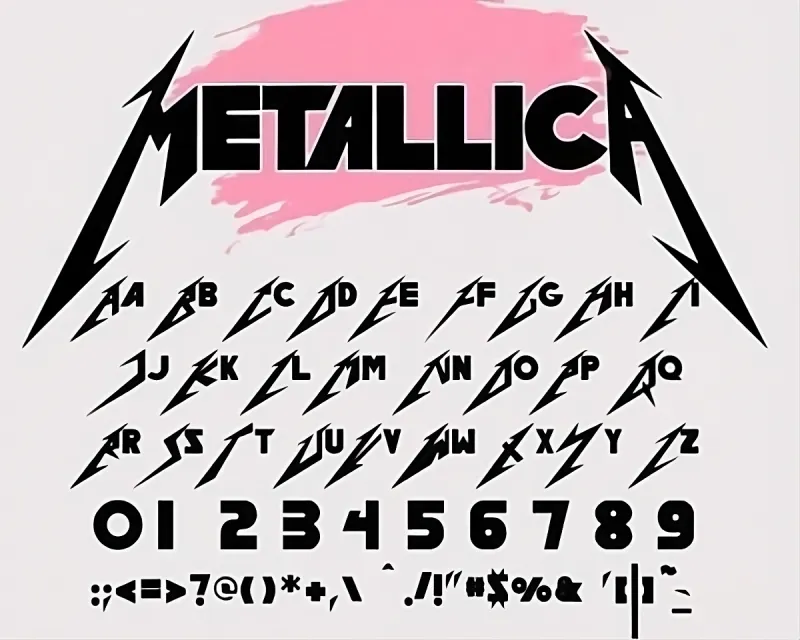 Download
On our website, you can get the free version of this font in a zip file, which you may then use in any program for any projects that you may have in mind.
Alternatives of Metallica Font
Saint Martyr Font.
Hellion Font.
Pure evil 2 Font.
Metal Lord Font.
FAQs
Can I Use Metallica Font on My Project?
You can use this font on your project.
Is this a free font?
Metallica Font is totally free for personal use.
What's the Closest Font to Metallica Font?
Pure evil 2 Font Font is very close to Metallica Font.
Thanks