The Cinzel font is a display sans-serif typeface released in 2012. The font was commissioned and published by Google Web Fonts and Ndiscover. Natanael Gama, a Portuguese type designer born in Caldas da Rainha in 1988, created the design.
He is known for experimenting with different typefaces. He holds a degree in graphics and multimedia design. He has seen his work used by brands like HBO, BBC, Netflix, etc. He is also a teacher on online education platforms like Skillshare.
The designer says of the Cinzel font, "Cinzel is a typeface inspired by first-century Roman inscriptions and based on classical proportions." However, it is not simply revivalism; it conveys all of the ancient histories of the Latin alphabet while also incorporating a contemporary feel.
The Cinzel font has a decorative version with swashes. Cinzel is an all-caps/small-caps typeface. The font is available in versions 1.001, PS 001.001, hotconv 1.0.56, and makeotf.lib2.0.21325. However, with six styles, including regular, bold, black, etc.,
The font has a 272–351 glyph range with a weight of 400, 700, 900, and 349 characters.
The font supports hundreds of languages. It contains contextual alternates, swashes, and ligatures.
This typeface was primarily designed for the screen, ensuring that the font would work on a screen while having a significant contrast. The font was updated on April 28, 2016.
Usage
Any project requiring a refined and luxurious look can be created with this font, including logos, menus, branding materials, and any other type of design project.
This type of design will create a luxurious, rich, exclusive, and elegant appearance, perfect for any project requiring a high-end appearance. This design is the opposite of the standard, which makes it a luxury and classy product. A number of alternate designs are available as well.
Font view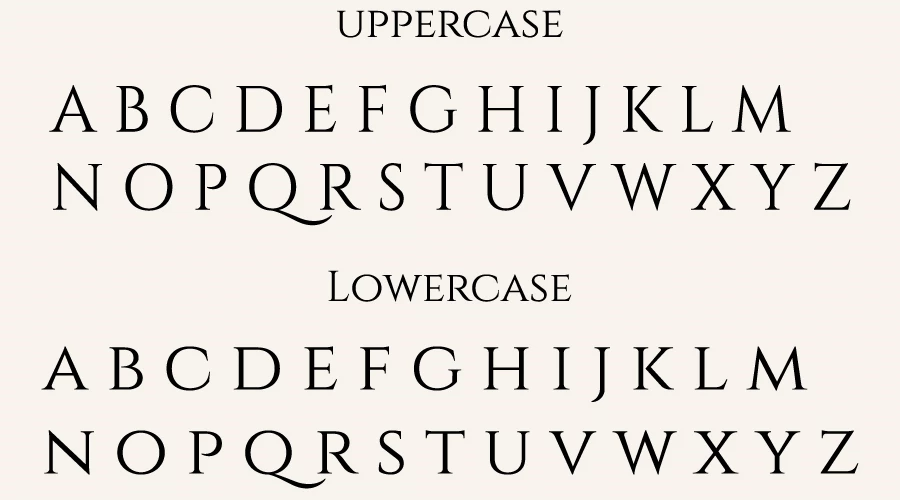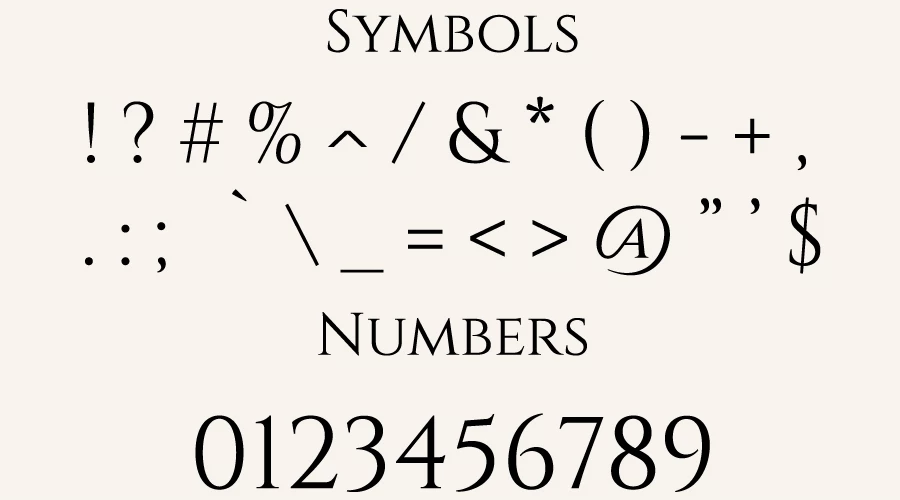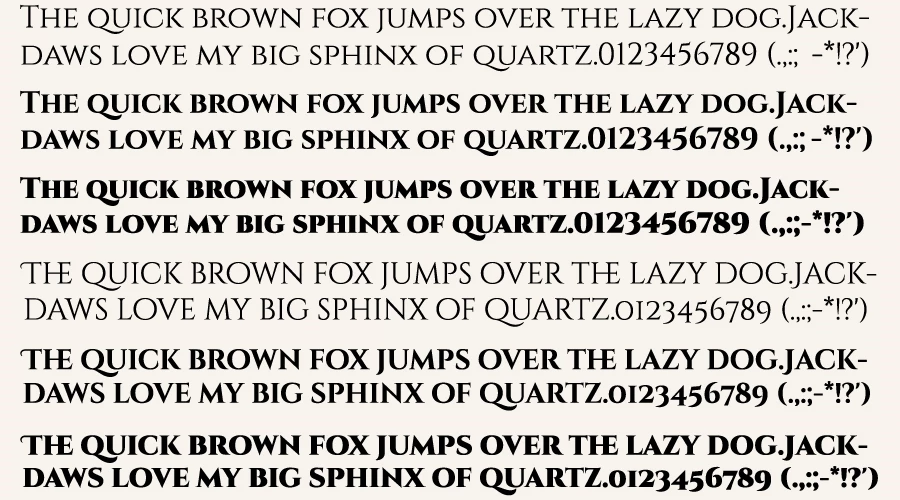 Font Information
| | |
| --- | --- |
| Name | Cinzel Font |
| Designer | Natanael Gama |
| Type | Sans-Serif |
| File Format | OTF, TTF |
| License | Free for Personal Use |
Font Family
Cinzel-Regular
Cinzel-Bold
Cinzel-Black
Cinzel Decorative-Regular
Cinzel Decorative-Bold
Cinzel Decorative-Black
Similar Fonts
Constantine
Raleway
Rokitt
Butler
Roboto
NanumMyeongjo
Antic Didone Regular
OPTICubaLibreTwo
OPTISerlio
Supported Languages
English, Greek, Greenlandic, Guarani, Haitian Creole, Hausa, Hawaiian, Hiligaynon, Hill Mari, Hmong, Hopi, Hungarian, Ibanag, Icelandic, Iloko (Ilokano), Indonesian, Interglossa (Glosa), Interlingua, Irish (Gaelic), Istro-Romanian, Italian, Jèrriais, Kabardian, Kalmyk (Cyrillic), Oromo, Ossetian, Pangasinan, Papiamento, Piedmontese, Polish, Portuguese, Potawatomi, Quechua, Rhaeto-Romance, Romanian, Romansh (Rumantsch), Rotokas, Russian, Rusyn, Sami (Inari), Sami (Lule), Sami (Northern), Samoan, Sardinian (Sardu), Scots (Gaelic), Serbian (Cyrillic), Serbian (Latin), Seychellois Creole (Seselwa), Shona, Sicilian,Low Saxon, Luxembourgian, Macedonian, Malagasy, Malay (Latinized), Maltese, Northern Sotho (Pedi), Norwegian, Occitan, Cebuano, Chamorro, Chechen, Cheyenne, Chichewa (Nyanja), Chuvash, Cimbrian, Corsican, Croatian, Cyrillic, Czech, Danish, Dungan, Dutch, English, Esperanto, Estonian, Evenki (Cyrillic), Faroese, Fijian, Finnish, French, Slovak, Abkhaz, Afrikaans, Albanian, Alsatian, Aragonese, Arapaho, Aromanian, Arrernte, Asturian, Aymara, Azerbaijani (Cyrillic), Bashkir, Basque, Belarusian, Belarusian (Lacinka), Bislama, Bosnian, Breton, Bulgarian, Buryat (Cyrillic), Catalan, Karachay (Cyrillic), Kashubian, Kazakh (Cyrillic), Khakas, Khalkha, Khanty, Kildin Sami, Komi-Permyak, Kurdish, Kurdish (Kurmanji), Kyrgyz (Cyrillic), Ladin, Latvian, Lithuanian, Lojban, Lombard, French Creole (Saint Lucia), Frisian, Friulian, Galician, Genoese, German, Gilbertese (Kiribati), Manx, Maori, Meadow Mari, Megleno-Romanian, Míkmaq, Mohawk, Moldovan, Nahuatl, Nenets, Norfolk/Pitcairnese, Slovenian (Slovene), Somali, Southern Ndebele, Southern Sotho (Sesotho), Spanish, Swahili, Swati/Swazi, Swedish, Tagalog (Filipino/Pilipino), Tahitian, Tajik, Tatar (Cyrillic), Tausug, Tetum (Tetun), Tok Pisin, Tongan (Faka-Tonga), Tswana, Turkmen, Turkmen (Cyrillic), Turkmen (Latinized), Tuvaluan, Tuvin, Udmurt, Ukrainian, Ulithian, Uyghur (Cyrillic), Uyghur (Latinized), Uzbek (Cyrillic), Veps, Vietnamese, Volapük, Votic (Cyrillic), Votic (Latinized), Walloon, Warlpiri, Welsh, Xhosa, Yakut/Sakha, Yapese, Zulu.
License Info
When it comes to any personal usage, this typeface is completely free to use. In the case of commercial projects, you will be required to purchase the font's license directly from the creator of the typeface.
Download
For your personal l projects, you can download the font below.
What type of font is this?
Ans: The Cinzel font is a display sans-serif typeface released in 2012.
Who designed the font?
Ans:  Natanael Gama, a Portuguese type designer born in Caldas da Rainha in 1988, created the design. The font was commissioned and published by Google Web Fonts and Ndiscover.
Is it possible to download it for use on my computer or Mac?
Ans: The Cinzel Font can be downloaded from our website. This font works with both PCs and Macs.
What if I want to use this on an online platform?
Ans: This font can be used on any online platform.
Is this font free to download and use?
Ans: Yes, for personal purpose using this font is free. However, for commercial usage you've to purchase the font.
Is this font compatible with the web?
Ans: To use the font as a web font, you must purchase it from the original license holder.
Are there any other free fonts like this?
Ans: As a free alternative, you could use "Constantine."