The Fortnite font is a typeface that is used for the logo and title of the popular video game Fortnite. Fortnite is a sandbox survival game developed by Epic Games and People Can Fly, and released in 2017. One of the distinctive features of the game is its logo and title.
So, What font used in Fortnite?
The font that is used in Fortnite game logo and menu is called to Burbank Big Condensed Black, designed by Tal Leming. The Fortnite font is a fun and playful font that has a lot of personality and energy. It is a fun and playful font that comes in 20 styles, with different widths and weights.
Burbank is a display typeface. This font has 20 unique styles. The typeface was designed to convey strength and simplicity. The Fortnite font (Burbank Big Condensed Black font) is popular among designers for its vast language support and highly legible appearance.
Due to its popularity, people search for this font with the phrase "Fortnite Font." Burbank's typeface has interesting characters, such as bold letters and special icons. The font is also very versatile and can be used for various purposes, such as logos, headlines, posters, banners, and more.
Currently, about 125 million people around the world play this game. Fortnite Font is a bold gaming font that originated after releasing the famous video game Fortnite. This typeface is suitable for any gamer who wants to bring this old font to life.
Font View
Burbank Big Condensed Black font character map view.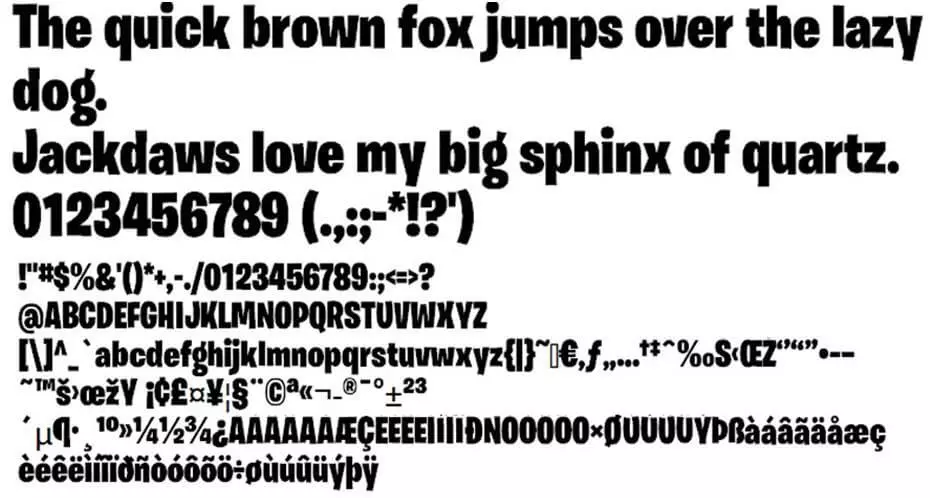 Other Alternative to Fortnite Font
We have found many fan-made replica fonts and fonts similar to the Fortnite logo. These may be a good fit for your project. Here are some options to consider:
Fortnite Battlefest
It is a font created by SpideRaYsfoNtS based on the FPS shooter game of a similar name. It has similar wide arms with angled stems, crossbars and collars like the logo.
Skramp Font
Skramp is a funky comic text font designed by Jakob Fischer and published by PizzaDude.dk. It looks good with massive text or just a headline here and there. Its got the similar look of the logo font but its a only demo font.
DK Woolwich Regular Font
DK Woolwich Regular is a display font created by Hanoded. It is named after a district in south-east London and somewhat inspired by Futura condensed font. It has a very close look with the Fortnite Logo font.
Taz Con UltraBlack
Another similar looking for tha you can try.
Sans Black Font
The Sans Black font by Manfred Klein is a sans serif, a geometric typeface that has been designed with strict geometry and simple curves. It's also similar to Fortnite. You can use this font for free, but only for personal use.
Marvin Font
Font designer Patrick Griffin from Canada has created a font called "Marvin." The font is a good example of how creativity can be used to solve problems. The font is also similar to the font used in Fortnite.
OPTI Futura Extra Black Condensed Font
As a sans serif font, OPTI Futura Extra Black Condensed is very similar to the Fortnite font. Also, this font is beautifully designed and will bring your artwork to life. It's free for personal use font.
Ultimately, the best alternative to the Fortnite font will depend on the specific needs of your project and the look and feel you're trying to achieve.
Fortnite Font Generator
Our Fortnite Font generator is easy to use. Just type in your text, select the font, and start customizing. You can change the size, color, and background to create the perfect look for your project. See the changes in real time and download the customized preview or the font itself.
FAQs
Does Google have a font that looks like this?
Ans: Yes, It has. The closest similar alternative in Google fonts to Fortnite is Girassol.
How can it be used most effectively?
Ans: For example, you can use it on book covers, titling, banners, brochures, posters, presentations, and many more.
What if I want to use this on an online platform?
Ans: Yes, you can use the Fortnite font on the online platform.
Is this font free to download and use?
Ans: Yes, this is a free font but for personal use only.
Conclusion.
The Fortnite font is a popular choice for logos, headlines, and other branding materials. It is a bold and playful font that can be used to create a sense of energy and excitement. However, the Fortnite font is not the only option available. There are many other fonts that are similar in style, but offer different features and benefits.
As like Fortnite font you know that there are many other fonts that share a similar spirit and are equally captivating?
For the fans of the galaxy far, far away, our Star Jedi font and Star Wars font are a must-see.
Music enthusiasts will appreciate the rhythm and beat of our Spotify font.
Comic book lovers, assemble! Our Marvel font is here to add some superhero flair to your creations.
Space explorers, get ready to launch your designs to new heights with our NASA font.
Lastly, for the wizards and witches out there, our Harry Potter font is a magical addition to any project.
Note: Have you had trouble installing the font on your PC or Mac? Don't worry. Just follow the links below.
* How to Install Custom Fonts on Your Windows PC
* How to Install Custom Fonts on Your Mac
If you have any questions, please do not hesitate to contact us.
Thanks