Are you looking for a font that adds nostalgia and spirit to your designs? Do you want a font that evokes memories and emotions of your school days? If so, then check out the Varsity font.
History of the Varsity Font
The Varsity font is a typeface that Brøderbund Software created. The font is based on the lettering style for sports teams and school uniforms. It is a font with a long and rich history that dates back to the 19th century.
The letterman jackets inspire the Varsity font. These jackets are awarded to high school or college students participating in sports or other extracurricular activities. The letterman jackets usually have a large letter or logo on the front, representing the school or team name, and sometimes have patches or pins on the sleeves or pockets, representing the achievements or honors of the wearer.
The letterman jacket originated at Harvard University in 1865. This was when the school's baseball team decided to wear flannel shirts with a large letter H on the chest. The letter H was used to separate players from other students. It was also a symbol of their pride and loyalty to the team. The letter H soon became a symbol of prestige and excellence, and only the best players could keep their shirts at the end of the season.
The letterman jackets soon spread to other sports and schools and became a popular fashion item among students and athletes. The letterman jackets also evolved in style and design, incorporating different colors, materials, shapes, and decorations. The lettering style also changed over time, becoming more stylized and varied.
About the Varsity Font
It is a font with four styles: Regular, Outline, Italic, and Outline Italic. It is a font with uppercase, lowercase, numbers, punctuation marks, and some symbols.
The Varsity font is one of the most popular and widely used lettering styles for letterman jackets. The font has a classic and sporty look, with thick and thin strokes, sharp edges, and slanted serifs. It is a font that can capture the essence and spirit of the letterman jackets and their history.
The Varsity font is a font that can be used for various purposes and occasions. Here are some examples of where you can use it:
Logos: This font can make your logo stand out and convey a sense of tradition and quality. You can use it for brands or businesses related to education, sports, entertainment, or lifestyle.
Headlines: The Varsity font can catch readers' attention and effectively communicate your message.
Banners: It can spice up your banners and make them more appealing and eye-catching.
Posters: It can enhance your posters and make them more attractive and informative.
Varsity Font Generator
Using our Font Generator, instantly preview the font with adjustable size, color, and background. Plus, you can download the showcased font in image format.
Varsity Font View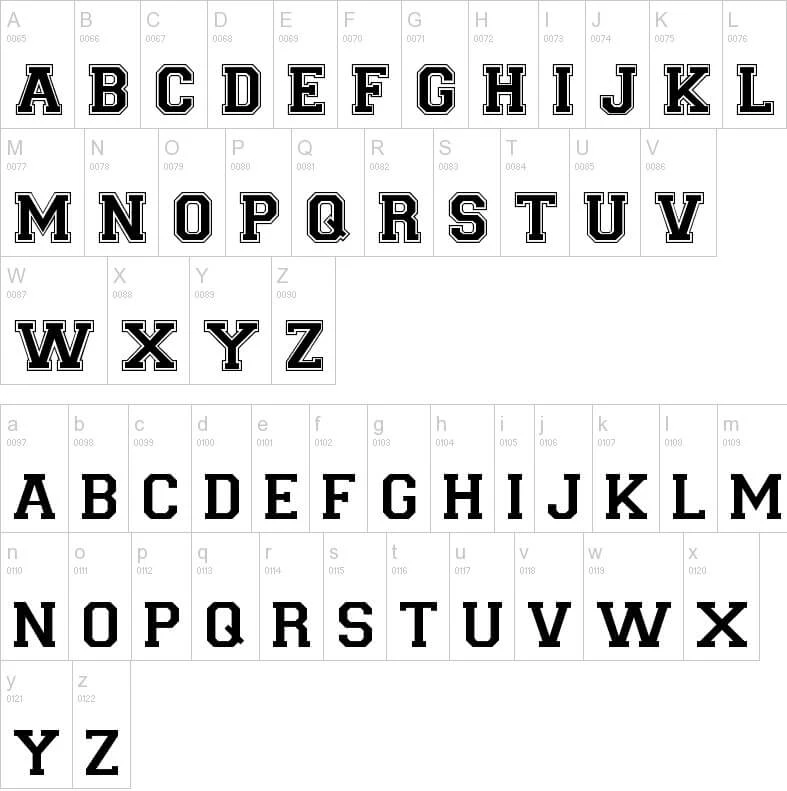 Font information
| | |
| --- | --- |
| Name | Varsity Font. |
| Style | Serif, Modern |
| Author | Brøderbund Software |
| File Format | TTF |
| Font Licence | Free for personal use |
| Type | Freeware. |
Font Family
VARS
Varsity
varsity_regular
Language Support
Afrikaans, Albanian, Danish, Dutch, English, Estonian, Finnish, French, German, Icelandic, Italian, Norwegian, Portuguese, Spanisch, Swedish, Zulu.
Similar Fonts
Emilio 20.
Octin.
Fine College.
Soccer League.
Graduate.
Collegiate.
License Information
Free to download this Versity font is licensed for personal use only. If you like this font to use for commercial purposes, make sure to purchase it from the rightful owner.
Varsity Font Free Download
Download free Varsity font for free with just one click. Hit the 'Download Font' button below and enjoy using it.
FAQs
What type of font is Varsity?
Ans: Varsity is a slab-serif font in modern style in the picture of the old school look.
Is Varsity Font safe to download and use in My PC and MAC?
Ans: Yes, for PC and MAC this stylish font is safe to download.
Is there any font similar to Varsity in Google Fonts?
Ans: Google Fonts has a close similar alternative named Graduate.
Is it ok to use this in an online platform?
Ans: For personal use, you can apply this font to an online platform.
Conclusion
If you are looking for a font that can add nostalgia and spirit to your designs, you might want to try the Varsity font.
We hope you enjoyed this article and found it useful for your creative endeavors. So, why don't you try for your next project?
Furthermore, we offer other fonts that you can try, including Chanel, Baby Shark, Winnie the Pooh, Peppa Pig, and Lilo and Stitch Font.
Thank you!