About Poppins Font Family
Poppins is a sans-serif typeface designed by Google font designer Jonny Pinhorn (in Latin) and Indian Type Foundry designer Ninad Kale (in Devanagari). It was released in 2020 and is available in five weights: thin, light, regular, medium, and bold. It also includes a variety of ligatures and special characters. It is a geometric font with rounded corners and a geometric structure that makes it highly legible. It is also versatile enough to be used for both display and body text.
It has a total of 1059 glyphs and a character count of 469. It supports both Devanagari and Latin writing systems. The Devanagari writing system is used to write many languages in India, including Hindi, Marathi, Nepali, and Sanskrit. The languages that the Latin writing system supports include English, Spanish, French, German, Italian, Dutch, and Portuguese. Poppins is available under the SIL Open Font License, which allows for commercial and non-commercial use. To use Poppins, you will need to download the font files from our website and install them on your computer.
You can also contribute to this project by suggesting changes on Github. https://github.com/itfoundry/poppins
Poppins is an excellent choice for branding materials, logos, websites, and other digital projects. It has a modern look that can be used to create a unique visual identity.
Font Custom preview
Font Information
| | |
| --- | --- |
| Font Family Name | Poppins |
| Classification | Sans serif |
| Units Per Em | 1000 |
| Version String | 4.004 |
| Release Date | 2020 |
| Copyright | Copyright 2020 The Poppins Project Authors |
| License Agreement | This Font Software is licensed under the SIL Open Font License, Version 1.1. This license is available with a FAQ at: https://scripts.sil.org/OFL |
| License URL | https://scripts.sil.org/OFL |
| Publisher | Google Fonts and Indian Type Foundry |
| URL | Website |
| License | Open Font License |
| Desginer | Ninad Kale (Devanagari), Jonny Pinhorn (Latin) |
| Sample Text | सभी मनुष्यों को गौरव और अधिकारों के मामले में जन्मजात स्वतन्त्रता और समानता प्राप्त है। |
| Glyph | 1059 |
| Characters | 469 |
| Format | TrueType |
| Character Ranges | Basic Latin, Latin 1 (English), Latin Extended – A, Devanagari and more |
Source: FontCreator
Font Family Includes
Poppins Light
Poppins Light Italic
Poppins Regular
Poppins Regular Italic
Poppins Medium
Poppins Medium Italic
Poppins SemiBold
Poppins SemiBold Italic
Poppins Bold
Poppins Bold Italic
Poppins ExtraBold
Poppins ExtraBold Italic
Poppins Black
Poppins Black Italic
Font Family View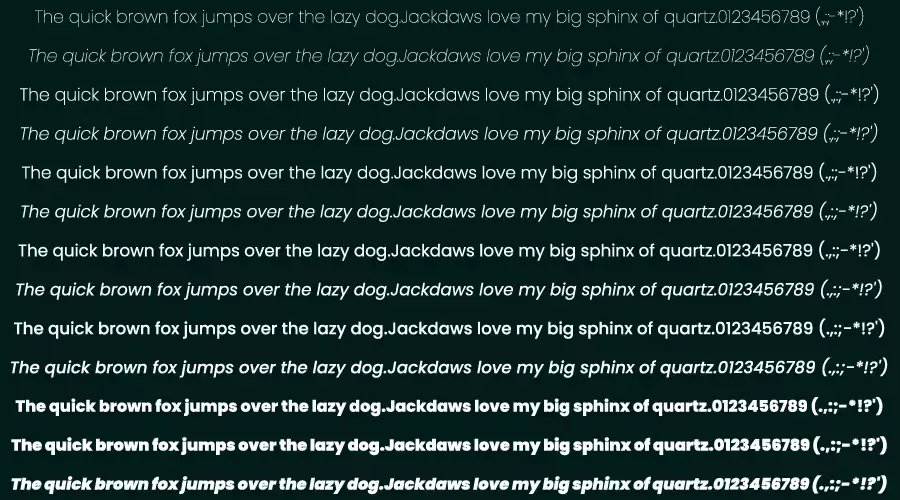 Similar Font
Filson Font
Evolventa Font
Larke Neue Font