Designed by Scott Simpson, the Mermaid font is a bold serif typeface. There are swash caps, basic diacriticals, and special characters in there. This typeface also features flat and round curves to complement the Audiowide font's style, and its amazing characters will enhance its value. The Mermaid font has 2 styles: Mermaid Regular and Mermaid Swash. Swash caps have been moved to a separate font file for ease of access.
The name of this font might imply that it is a script and cursive font, but it is much simpler than that. There are so many Mermaid fonts available on the web, but Mermaid by Scott Simpson is one of the most popular among designers and developers. This font can be used with Open Snas to create amazing modern designs. Mermaid is available in TTF format. The font can be used on PCs, Macs, Linux, iOS, and Android devices.
Mermaid Font Usage
This typeface is being used in a number of places, and it has a great online presence that makes it an excellent choice for web design. The typeface is also easy to read.
Serif fonts are often used on the packaging because they provide a clean, clear design touch. Therefore, this typeface is suitable for use on packaging. Whether it is a cover letter or a PowerPoint presentation, Mermaid is a font you should use.
The Mermaid font is perfect for titles, headings, or any other creative projects. It is a playful and fun font that can add a touch of uniqueness to any design. So, next time you are looking for an elegant, fun, and different font to use, consider Mermaid!
Font View
To get an accurate idea of how the characters will appear on your project, preview the characters before downloading the typeface.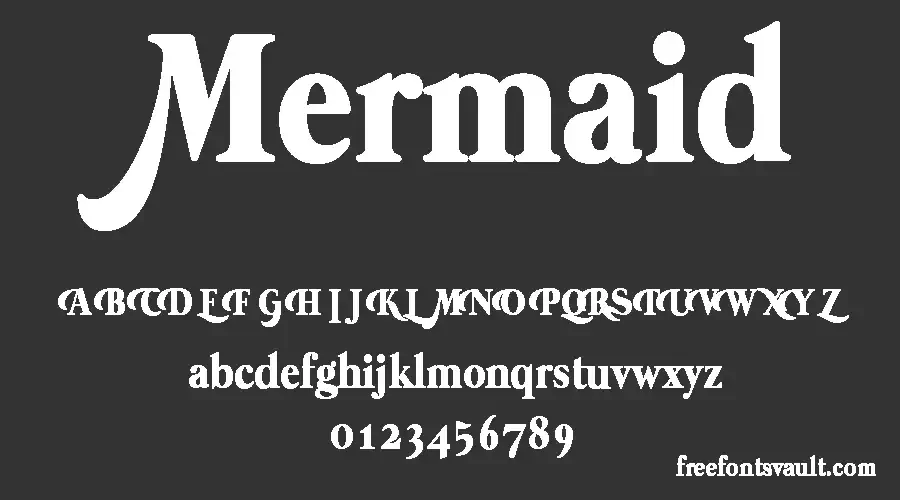 Mermaid Font Generator
License Information
A high-contrast serif face with round, smooth curves, Mermaid has high contrast and a smooth transition. We greatly appreciate donations, but Mermaid is free for personal use! For information about commercial licenses, please email the designer here.
Download
Please feel free to use this font for your personal projects by downloading it below.
Similar Fonts
Here are a few excellent free alternatives to Mermaid Font.
Font Pairing
Below are some Mermaid Font combinations that you can use to create high-quality designs.
Open Sans.
Montserat.
Calluna.
Tiempos Text.
FAQs
What kind of font is this?
Ans: Mermaid font is a bold serif typeface that has flat and round curves.
Who created the font?
Ans: Scott Simpson created the Mermaid Serif Font
Can I download it for use on my computer or Mac?
Ans: If you wish, you can download the Mermaid font from our website. It is compatible with both Mac and PC platforms.
Does Google have a font that looks like this?
Ans: Eduardo Tunni's Kurale font is similar to Google's Mermaid font.
How can it be used most effectively?
Ans: This font can be used for logos and headings. It is also suitable for creating web pages.
What if I want to use this on an online platform?
Ans: All online platforms are compatible with this font.
Is this font free to download and use?
Ans: Mermaid font can be downloaded free of charge for personal use.
Is this font compatible with the web?
Ans: The web version of the font can only be used if the font has been purchased from the original license holder.
Are there any other free fonts like this?
Ans: You could use "Longa Lberica" as a free alternative to Mermaid.
Note: Can't install the font on your Mac or PC? Not to worry. Here are the instructions.
How to Install Custom Fonts on Your Windows PC
How to Install Custom Fonts on Your Mac.
You can also learn more about typography and its classification.
If you have any questions, please do not hesitate to contact us.
Thanks a lot!