Lemon Milk Font is a modern geometric sans serif typeface designed by Marsnev (Muhammad Ariq Syauqi) and published in 2014. As per the designer of this font, this is not just a typeface. The Lemon Milk font has become a cultural phenomenon. It has already been downloaded over 7 million times, and it's also a trendy font. Its brush-drawn contours produce an effect of humanistic detail carved into beautiful glyph shapes.
There are two versions of this font: free and pro. The Lemon Milk free version is just the uppercase version. The free version has the OpenType format. But in the pro version, you have lowercase letters for Latin, Cyrillic, and Greek. This font has 67 languages supported. The Lemon Milk font has 18 fonts and two font variations, from thin to heavy. According to the designer, it is currently donationware, and it is version 5.
The design is simple, clean, and minimalistic. Aesthetically, the font has a clear sense of balance with moderate contrast between thin and thick strokes. These aspects appeal to designers looking for that modern aesthetic in their work. The italicized strokes of the letters are distinctive in their simplicity. The designer gave them an industrial feel with high contrast at the top and bottom of the curve to make them seem molded.
Below is the message from the designer.
Learn more about the Lemon Milk Font Family here: https://www.behance.net/gallery/90517125/LEMON-MILK-Font-Family
Do you require LEMON MILK lowercase letters?
Wait no more! LEMON MILK Pro is available now.
Get LEMON MILK with lowercases, covering extended Latin, Cyrillic, and Greek.
Moreover, it now has 18 fonts + 2 variable fonts ranging from thin to heavy.
Purchase Lemon Milk Pro™ here:
https://www.myfonts.com/fonts/marsnev/lemon-milk-pro/
https://www.youworkforthem.com/font/T11896/lemon-milk-pro
——— Important Note ———
This version of LEMON MILK is absolutely free for personal, educational, non-profit, or charitable use.
For commercial use, kindly donate me (pay as you want) as an appreciation. If you want to donate, my PayPal address is marsnev@marsnev.com.
Every donation is greatly appreciated.
Usage
The typeface has been designed for modern typographic design and has been specially created for display use. The typeface is perfect for food-related design projects, such as menus, leaflets, or restaurant signage. It is also perfect for any use that requires that modern aesthetic without being too overwhelming or distracting to the viewer. This typeface lives up to its name, with that classic lemony taste that is refreshing and enjoyable.
With this super cool typeface's help, you can create unique emblems, book covers, printing, content titling, social media banners and thumbnails, game graphics, website development, and many other places.
Font View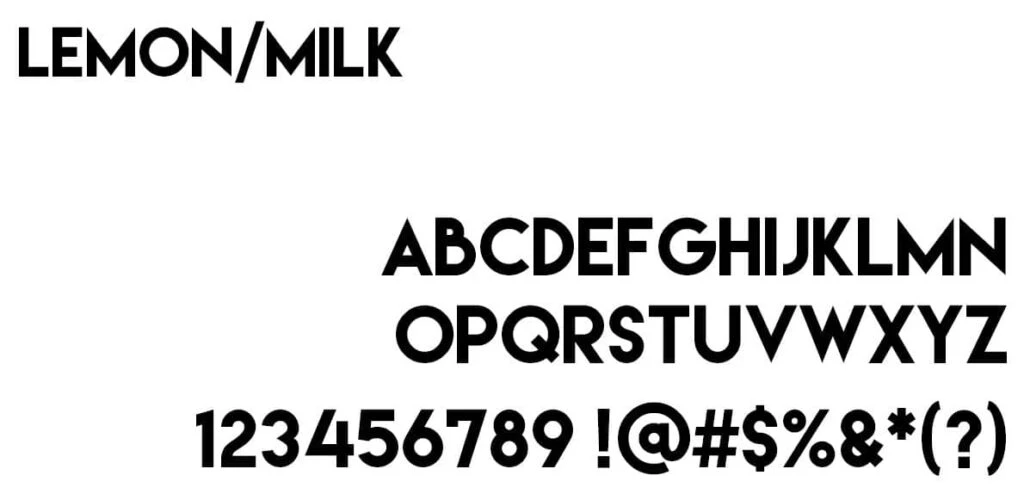 Lemon Milk Font Generator
Want to see your text in Lemon Milk Font? Our Lemon Milk Font generator lets you preview the font and download it. You can also download a preview of the selected font in PNG format for your convenience. Try it now and see what you can create.
Download
If you are looking for the free version of Lemon Milk Font here it is. The download link is ready. Click the download link below and you will get the font immediately at no cost.
Font FAQs
Is this Font safe to download and use on My PC and MAC?
Ans: Yes, It is 100% safe to download for both PC and MAC.
Is it OK to use this on an online platform?
Ans: Yes, you can use the Lemon Milk Font on the online platform.
How to install Font on a Computer?
Ans: Check the PC or Mac instructions link to install Lemon Milk Font on your computer.