Disney is one of the most iconic brands in the world, with a rich history of animation, movies, theme parks, and merchandise. One of the most recognizable aspects of Disney is its distinctive font, which is used for its logo and many of its products. But did you know that there are actually a variety of Disney font styles, each of which draws inspiration from a different film or theme park attraction? In this article, we will explore some of the most popular and unique Disney fonts and how you can use them for your own projects.
Disney Logo Font
The Disney logo font is probably the most famous Disney font, as it is used for the company's name and the opening credits of many of its movies. The font is based on the handwriting of Walt Disney himself, who drew the original logo in 1923. The font has a whimsical and elegant look, with rounded letters and a long stroke on the letter D.
There are several versions of the Disney logo font, depending on the era and the style of the movie. For example, the classic logo font has a silver color and a subtle shadow effect, while the modern logo font has a blue color and a gradient effect. Some movies also have their own variations of the logo font, such as Frozen, which has a snowflake motif on the letter D.
If you want to use the Disney logo font for your own projects, you can find some free fonts that mimic its appearance online. Some examples are:
Walt Disney Script Font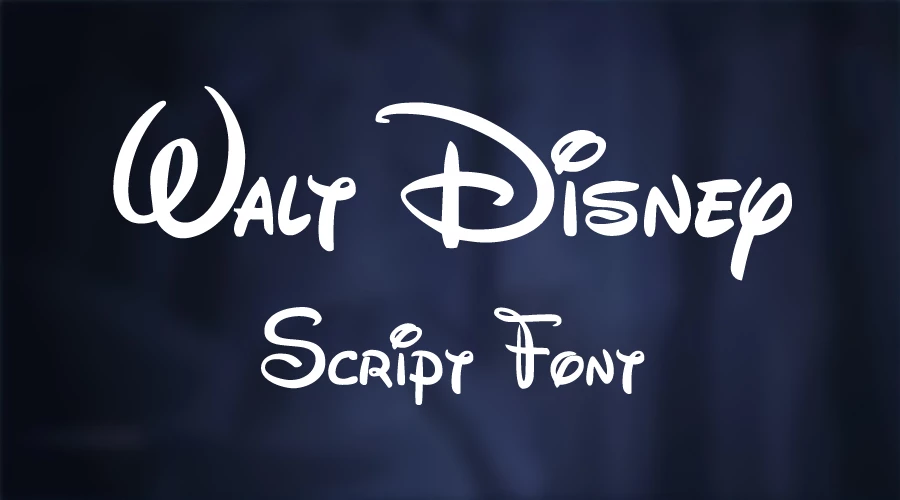 The Walt Disney Script is a True-Type font with a regular style designed by Robert Johnson. It is very similar to the logo of the Walt Disney Company. Later, the Font was updated and renamed the New Waltograph Font.
Waltograph Font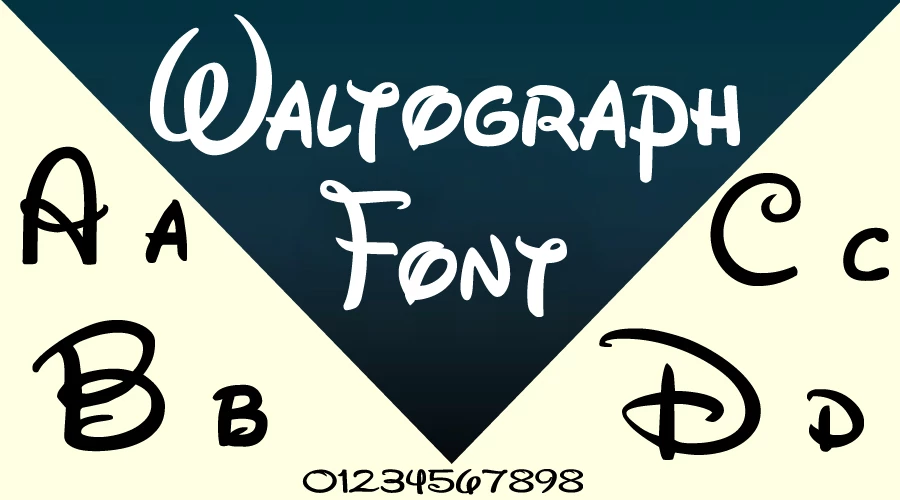 Waltograph is a font inspired by the classic Walt Disney logos designed in 2006. It was based on the original Walt Disney Script Font. The Font includes several variations, including regular, italic, and bold. Waltograph is available in both uppercase and lowercase letters.
New Waltograph Font by 538Fonts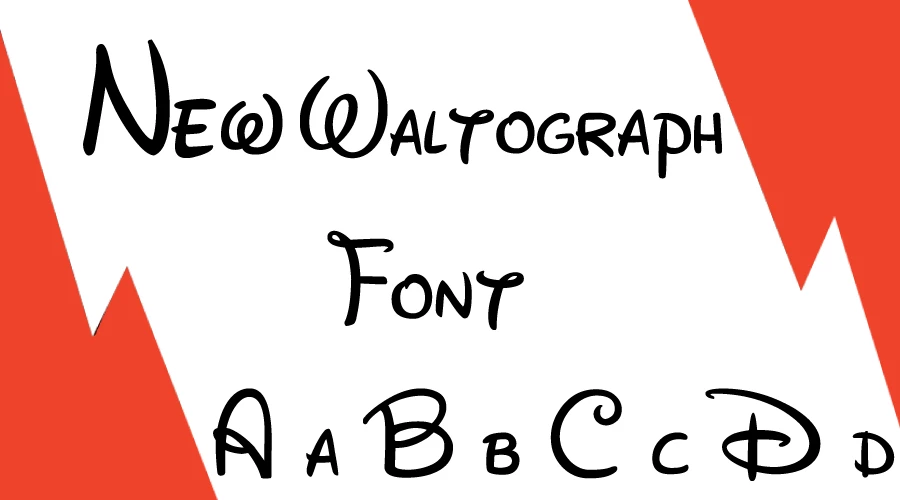 The New Waltograph UI font is for fans of Disney. This is the redrawn version of the Waltograph Font. It was based on the updated Walt Disney Pictures logo.
Walter Font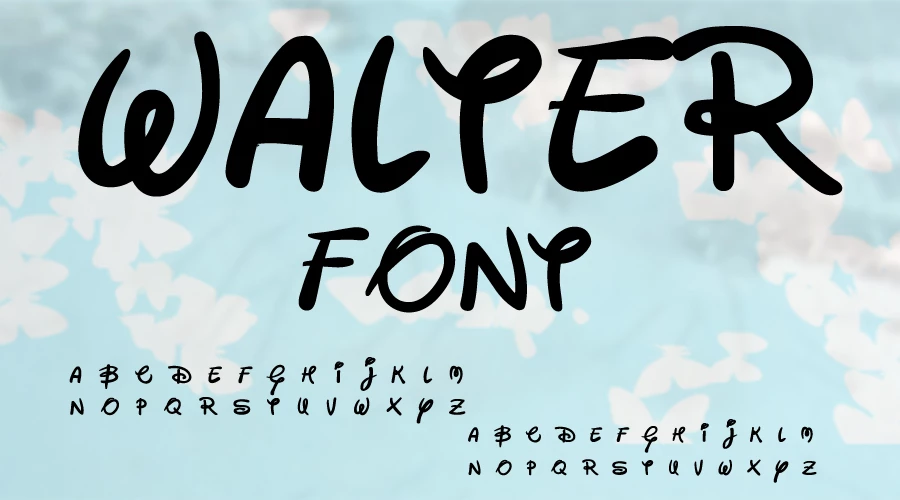 It is another Disney logo-inspired font designed by Fontomen and published in 2007. It's a TrueType font with 34 glyphs and 62 characters.
Dan's Disney Font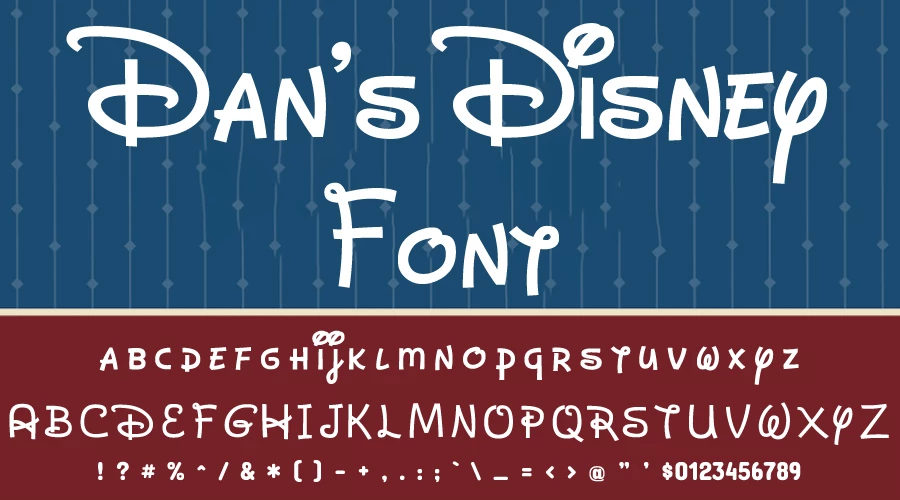 Dan's Disney Font is another Disney logotype designed by 538Fonts. It has two styles and supports the TrueType format.
Descendants Font by NubeFonts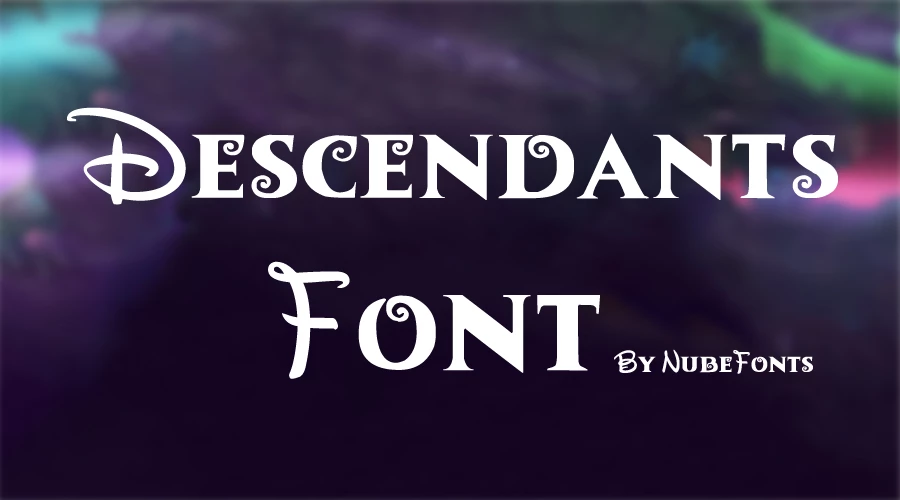 This Descendants Font "D" is similar to the Disney logotype designed by NubeFonts. It supports TrueType with 53 glyphs and 242 characters.
Descendants Font by FZ Fonts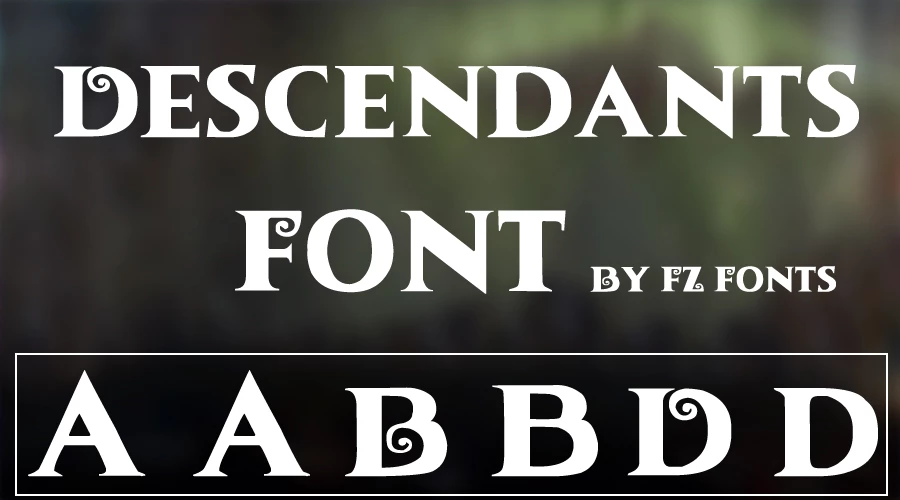 It's another font like the previous Descendants Font, but the only difference is in other characters. FZ Fonts designed this Descendants Font. The font has an identical "D," similar to the Disney logotype "D" character.
Disney Cartoon Fonts
Disney is a brand that has enchanted generations with its magic, creativity, and imagination. Their timeless stories and unforgettable characters have captured the hearts of audiences worldwide. From the iconic Mickey Mouse to the daring Aladdin, Disney has crafted a vast collection of animation that has become an integral part of our culture.

However, what sets Disney apart is the meticulous attention to detail and craftsmanship evident in all their productions. The Disney cartoon fonts are no exception. Every font is carefully designed to match each cartoon's distinct style and personality, infusing them with a uniqueness that lingers in the memory long after the movie.

Here are some examples of Disney cartoon fonts and similar free fonts you can use in your designs:
Mickey Mouse
If you're a fan of the world's most beloved mouse, you won't want to miss the iconic Mickey Mouse font! This font is instantly recognizable with its rounded letters and playful vibe. That makes it the perfect addition to any design project needing a Disney magic touch. It looks very similar to the logo of Disney's Mickey Mouse. Whether designing a birthday party invitation or a social media post, the Mickey Mouse font will surely bring your audience a smile. So why wait? Download the font today and add a touch of Disney to your designs!
Minney Mouse
Minnie Mouse is one of Disney's most beloved and iconic characters. She debuted alongside Mickey Mouse in the 1928 cartoon short "Steamboat Willie," and has been a mainstay in the Disney universe ever since. Minnie is known for her sweet and spunky personality and signature polka dot dress and bow. This Minnie Mouse font is fun and playful, perfectly capturing the spirit of everyone's favorite mouse. With its curly, swirly letters, this font is perfect for adding a touch of whimsy to any design project. You can download it now for free from our link below
Wicked Mouse
"Wicked Mouse" is a custom font created by Sharkshock, inspired by the iconic logo of the Walt Disney Company. The font is designed with the unique characteristics of the mischievous and lovable character, Mickey Mouse, in mind. It features thick and bold letters with a fun and playful style, perfect for creating designs that capture the spirit of classic Disney cartoons. The font includes uppercase and lowercase letters, numbers, and symbols. It's a must-have for any Disney fan who wants to add magic to their designs.
Lilo and Stitch
The Lilo and Stitch font is a custom font created by the Disney studio for the movie's logo and title. It features a playful and whimsical style, with curved lines and uneven shapes that evoke the hand-drawn look of traditional animation. While the official font is not widely available for use, a fan-made font called "Buka Bird" is inspired by the logo font used in the Lilo and Stitch movie. Created by Steve Ferrera, this font captures the same playful and whimsical spirit as the original and can be used to recreate the lettering seen in the movie.
Monsters Inc
"Monsters, Inc." is a popular animated movie by Disney Pixar. The story revolves around a world where monsters exist, and the energy of children's screams is used as a power source. The movie features lovable characters like Sulley, a giant furry monster, and his one-eyed assistant, Mike Wazowski. The Monsters, Inc. logo uses a custom font that resembles the letters seen through a funhouse mirror, with quirky and playful distortions. This font, "Monster AG, " is available for commercial projects.
Winnie The Pooh
Winnie the Pooh is a beloved children's character created by A. A. Milne. The character first appeared in the book "Winnie-the-Pooh" in 1926 and has since become a pop culture icon. The character is known for his love of honey, friendship with other animals in the Hundred Acre Wood, and positive outlook on life. The font used in the series is just as iconic. Known as the Pooh font, it was designed by the International Typeface Corporation in 1996 and closely mirrored the logo created by A. A. Milne, the author of the Pooh Bear series of children's books. This font is perfect for any project that needs a touch of childhood nostalgia.
Aladdin
Aladdin is a popular Disney animated movie that was released in 1992. It tells the story of a young street urchin named Aladdin who falls in love with a princess named Jasmine and sets out to win her heart with the help of a magical genie. The movie features a variety of memorable characters and songs, including the beloved "A Whole New World." The Aladdin font is a custom font that was created for the movie's logo and titles. It features a stylized Arabic-inspired design that captures the magic and adventure of the film.
Disney Movie Fonts
Disney has produced hundreds of movies over the years, each with its own unique style and theme. Many of these movies also have their own custom fonts, which are used for their titles and posters. These fonts reflect the mood and personality of the movie, as well as its genre and setting. Some of these fonts are based on existing fonts, while others are created from scratch.
Here are some examples of Disney movie fonts, along with some free fonts that resemble them:
Beauty and The Beast
Beauty and the Beast is a classic fairy tale that has captured the hearts of generations. The story follows Belle, a young woman taken captive by a fearsome Beast in his enchanted castle. As she gets to know the Beast and his staff of enchanted household objects, including a teapot, a candlestick, and a clock, Belle learns to see beyond the Beast's monstrous exterior and discovers the kindness and compassion within him.
With its timeless themes of love, acceptance, and inner Beauty, Beauty, and the Beast has inspired numerous adaptations, including the beloved Disney animated film and its live-action remake. The classic fairy tale and the iconic Disney animated film inspire Beauty and the Beast font. This magical font captures the romance and whimsy of the story with its intricate and elegant design. Whether you're a fan of the fairy tale or appreciate beautiful typography, the Beauty and the Beast font is a must-have in your font library.
The Lion King
The Lion King font is a beloved and iconic typeface inspired by the African savanna and its rich wildlife. This bold and rustic font captures the essence of the movie's themes of courage, strength, and the circle of life. The irregular shapes and textures of the letters reflect the savanna's rugged terrain and natural beauty. The Lion King font is based on Aachen Bold, a classic typeface originally designed by Colin Brignall. Designer John Costello modified the font to give it a more handmade and organic feel, perfectly suited for the film's handmade and organic animation style. With its powerful and distinctive appearance, the Lion King font has become a staple of Disney typography, recognized and beloved by fans worldwide.
Toy Story
Toy Story is a beloved animated movie produced by Pixar Animation Studios and released by Walt Disney Pictures in 1995. Directed by John Lasseter, the film tells the story of a group of toys that come to life when humans are not around. The movie was a huge success and has become a cultural phenomenon, spawning three sequels and merchandise stapling popular culture. The font is based on a typeface called Gill Sans Ultra Bold Condensed, which was tweaked by designer Jim Sorenson.
This sans-serif font was designed by Eric Gill in the early 20th century. The customized version of the font used in Toy Story slightly modifies the "O" and "Y" characters, giving it a unique look that has become iconic in its own right. You can learn more about Toy Story and download the fonts by clicking on the download link.
Moana
This is a newer Disney movie font, inspired by the Polynesian culture and mythology. The font has a tropical and exotic look, with curved letters and decorative elements. The font is based on a typeface called Tiki Tropic, which was created by designer Sharkshock.
Finding Nemo
Finding Nemo is an animated film produced by Pixar Animation Studios and released by Walt Disney Pictures in 2003. Directed by Andrew Stanton, the film follows the story of a clownfish named Marlin, who embarks on an epic journey to find his son Nemo, who has been captured by a diver and taken to a dentist's office.
The Finding Nemo font is a whimsical and bubbly typeface designed by Filmfonts that captures the playful and adventurous spirit of the film. With its unique, bold, playful style, the Finding Nemo font is a popular choice for anyone looking to add a touch of fun and adventure to their design projects.
Frozen
Disney's Frozen is a popular animated movie released in 2013. It tells the story of two sisters, Elsa and Anna, and their journey to save their kingdom from an eternal winter. The movie's success led to the creation of a custom logotype font, the Frozen font, symbolizing the film's brand and identity.
The Frozen font was designed with a unique style to differentiate the film from others and reflect its themes of ice and snow. It is a custom logotype used as the movie's logo and has become an iconic representation of the film. However, the Frozen font is not widely available for public use, and alternative fonts such as Frozito and Ice Kingdom have been designed to be similar in style and appearance. You can learn and download the fonts from the link below.
Zootopia
Zootopia" is a 2016 Disney animated movie in a world where animals live in a city accommodating all types of creatures. The film follows the story of a rabbit police officer, Judy Hopps, and a sly fox, Nick Wilde, working together to uncover a conspiracy that could threaten the peace between predator and prey.
The font used in the movie's title and marketing materials is a custom logotype. So it isn't publicly available. But there is a similar font designed by Franco Fernández. It features bold, rounded letters with playful curves and a modern feel, mirroring the upbeat and dynamic nature of the movie.
Disney Park Fonts
Disney also has several theme parks around the world, each with its own attractions and experiences. Many of these attractions also have their own custom fonts, which are used for their signs and logos. These fonts capture the essence and atmosphere of the attraction, as well as its theme and story.
Here are some examples of Disney park fonts, along with some free fonts that imitate them:
Jungle Cruise
Jungle Cruise is a popular Disney theme park attraction that takes visitors on a scenic boat ride through different rivers filled with exotic animals and lush landscapes. The attraction was first introduced in Disneyland in 1955 and has since become a staple of many Disney parks worldwide.
The Jungle Cruise logo features a distinct font style with a rustic, adventurous feel that reflects the attraction's theme. While no official Jungle Cruise font is available for public use, there are fan-made fonts like Jungle Fever that are inspired by the Jungle Cruise logo and capture the same adventurous spirit. It is a great alternative that captures the spirit of the attraction and can add an adventurous flair to any project.
Haunted Mansion
This is one of the most famous Disney park fonts, inspired by the spooky and mysterious mansion that hosts ghosts and goblins. The font has a Gothic and ornate look, with sharp edges and intricate details. Ravenscroft font is the font very similar to it. You can check out the font below
Pirates of the Caribbean
The Carribean Font, upon which the Pirates of the Caribbean ride font is based, is a typeface that draws inspiration from the hand-lettering of 18th-century sea captains' logbooks and maps. Its rough and irregular edges and quirky letterforms evoke a sense of adventure and mystery, fitting perfectly with the ride's theme. The font features a combination of bold and thin strokes, with exaggerated curves and serifs, giving it a distinct pirate vibe.
The Pirates of the Caribbean ride at Disney parks takes visitors on a journey through a pirate-infested Caribbean island with animatronic pirates, treasure chests, and cannon fire. The ride's logo font has become an iconic representation of the attraction and its brand. The font is recognizable for its rough edges, uneven letters, and weathered appearance, which adds to the experience of being transported to the golden age of piracy.
Space Mountain
Disney's Space Mountain is a popular indoor roller coaster ride at several Disney theme parks worldwide. The ride takes guests on a thrilling journey through space, featuring twists, turns, and drops in complete darkness.
The Space Mountain logo features a distinctive futuristic style with sleek lines and a space-inspired font. The font used for the logo is custom-designed and not widely available for public use. However, a font called Space Station 77 bears a striking resemblance to the Space Mountain logo font. While not an exact match, Space Station 77 captures the essence of the Space Mountain font and could be a great choice for designs that evoke a sense of space exploration and adventure.
Disney Font Generator
Conclusion
Disney fonts are a great way to add some magic and charm to your projects, whether they are related to Disney or not. You can use them for invitations, posters, logos, banners, and more. There are many free fonts that mimic the Disney style online, so you can easily find one that suits your needs. Just remember to respect the copyright and trademark laws of Disney and its affiliates.
We hope you enjoyed this article and learned something new about Disney fonts. If you have any questions or comments, feel free to leave them below. And if you want to see more articles like this one, don't forget to subscribe to our newsletter. Thank you for reading!
You can also learn more about typography and its classification.
Please do not hesitate to contact us.
Thanks!