Today we will introduce the Avengers Font! This is the logo font of the Avengers movie. The Avengers was first released in 2012 and had tremendous success at the worldwide box office. Tee film is based on the Marvel Comics Universe (MCU).
We are going to find The primary title logo font of this movie. After research, we found that the Avengers logo font is similar to the Avengeance font, which Michael Gene Adkins designed. You can download this font from our site free for both personal and commercial use.
Just head back to our download section and download your Avenger font.
But there are many similar AVENGER fonts you can find on the internet. Here is the list you can check out.
Usage
The Avengers font can be used for various purposes. But the best use of these fonts could be logo design, YouTube Thubmline, Banner, showcasing product, etc.
We tried our best to find the matched font for the Avengers logo font. If you need any quires or suggestions, please contact us or give your feedback in the comment section. Sharing our page on social media will be very fantastic.
Font View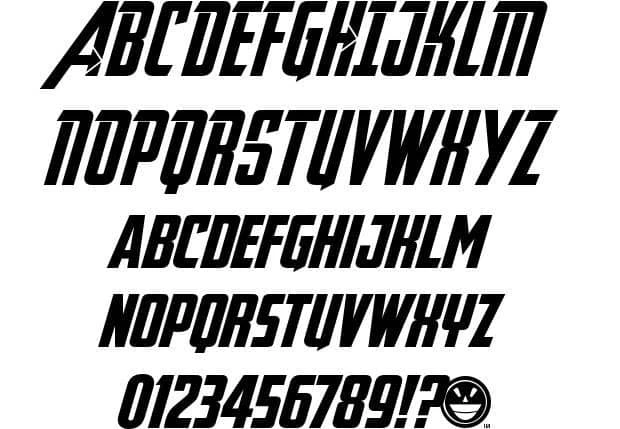 Avengers Font Generator
Get creative with our Avengers Font generator. Our tool lets you preview different fonts similar to the font and download it. You can also download a preview of the selected font in PNG format.
Use Avengers Font to create eye-catching logos, marketing materials, and more. The possibilities are endless!
Download
If you are looking for the free version of Roxborough CF Font here it is. The download link is ready. Click the download link below and you will get the font immediately at no cost.
FAQs
Is Avengers safe to download and use on My PC and MAC?
Ans: Yes, It is 100% safe to download for both PC and MAC.
Is it OK to use this on an online platform?
Ans: Yes, you can use the Avengers Font on the online platform.
How to install Avengers on a Computer?
Ans: Check the PC or Mac instructions link to install Avengers on your computer.