Pista Font is a display, multiline typeface font designed by Alexander Nedelev and Veronika Slavova. It is published by Typedepot Foundry. Being a unique decorative typeface, Pista has a very attractive and elegant look. If you use Pista font in your project, we hope it will enhance the beauty of your project.
Pista has six weights. It includes the following font families:

Pista.
Pista Bold.
Pista Outline.
Pista Rounded.
Pista Rounded Bold.
Pista Rounded Outline.
Dekal, Prisma, Gluck Stripes, and many more Fonts are similar to Pista Font. It is a premium font. If you want to use this font for your personal and commercial purposes, you have to buy it. To buy Gluck Stripes, Hit the buy font button given below.
Usage
Being a modern multiline font, Pista is usable for almost every design purpose. This font is a very eye-catching font, whenever you use it in your work it will look better than others. Also, you can use this font on the platforms below:
Designing: For huge designing purposes, Such as Business cards, Headlines, and Brochure layouts, Pista is at the top of everyone's favorite list.
Logos: You can design your logos with it.
Websites: I have seen various websites use this font.
Magazines: The font has the outlook to place on top of magazines.
Font View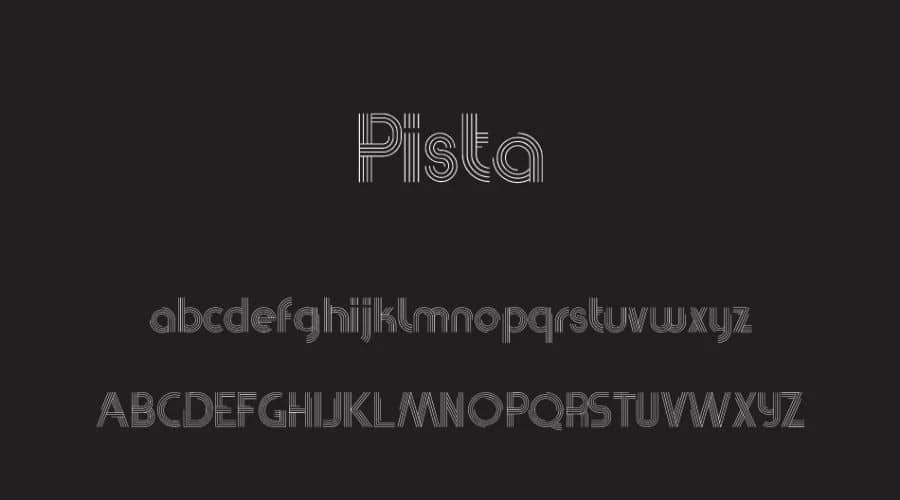 Pista Font Generator
Font generators are an excellent way to create custom fonts for branding or design projects. With a font generator, you can easily create stylish and stylish fonts that perfectly complement your overall aesthetic.
License Information
Pista Font is a Premium font. You can not download it for free. If you want to use this font, you have to buy it. Free Download is not available for Pista.
Download
If you are looking for the free version of font, you can not download it for free. If you want to use this font, you have to buy it. To buy, click the Buy Font Button.
Suggested Fonts
FAQs
Is Pista safe to download and use on My PC and MAC?
Ans: Yes, It is 100% safe to download for both PC and MAC.
Is there any font similar to Pista Font in Google Fonts?
Ans: Monoton is similar in Google fonts
Is it OK to use this on an online platform?
Ans: Yes, you can use Pista Font on the online platform.
How to install Pista Font on Computer?
Ans: Check the PC or Mac instructions link to install Pista Font on your computer.