Bonbon font is a script family of three weights designed by Emil Bertell and published by Fenotype. With a total number of over 850 glyphs per font, Bonbon is loaded with alternates: there are at least four alternates for each letter. In the pro version, you can find a set of 180 swooshes, swashes, ornaments, and pictograms to complete your designs.
Vegan Style Font, Walt Disney Script, Samantha Font, and many more fonts are mostly similar to Bonbon. We are providing the free version of Bonbon Font which contains regular weights only. You can use the free version only for your personal use.
Usage
Bonbon font is compatible with every type of design work there is. You can use this font for web design purposes. Like headings, titles, and sometimes subtitles.
If you're a YouTuber then you can enrich your thumbnail using this font. This font is also usable for cards, leaflets, newspapers (online/offline), presentations, webpages, blogs, logos & branding, book covers, and many more.
Bonbon font is a very eye-catching font, whenever you use it in your work it will stand out more than others. But you have to be very careful. The version of the font we are providing you is freeware or the demo version. So, whenever you're more likely to use it for commercial purposes, be sure you've got yourself a license from the original creator himself.
Font View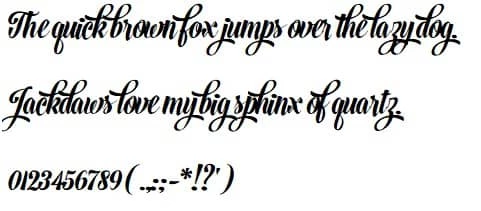 Bonbon Font Generator
Font generators are an excellent way to create custom fonts for branding or design projects. With our Bonbon font generator, you can easily create stylish and stylish fonts that perfectly complement your overall aesthetic.
License Information
Bonbon is a freeware font. You can use the free version for personal use only. For commercial purposes, you have to buy the font. To buy the font click on the link below.
Download
If you are looking for Bonbon font here it is. The download link is ready. Click the download link below and you will get the font immediately at no cost.
Explore More Fonts
FAQs
Is Bonbon safe to download and use on My PC and MAC?
Ans: Yes, It is 100% safe to download for both PC and MAC.
Is there any font similar to Bonbon Font in Google Fonts?
Is it OK to use this on an online platform?
Ans: Yes, you can use Bonbon on the online platform.