About The Font
The Trebuchet MS typeface was designed in 1996 by Vincent Connare for Microsoft Corporation. Basically, it is a humanist sans-serif typeface named after a medieval siege engine known as a trebuchet. The Trebuchet font has four different styles. This font has been updated many times since its design. It was last updated on May 1, 2001, and now supports the WGL4 character set and Greek and Cyrillic languages.
In Windows XP's default theme, Trebuchet MS replaced MS Sans Serif and Tahoma. It remained one of the most popular body text fonts on web pages as of 2009. Microsoft Office uses the typeface. Also included in Microsoft's design package for Web fonts, Trebuchet was made available free of charge.
The typeface's letterforms have a large x-height, along with clean lines that will allow for easy legibility, even at small sizes. The font was loosely influenced by sans-serif designs from the 1920s and 1930s. This is the first Microsoft sans serif family to include a true italic feature, rather than just tilting roman glyphs. In the bold version, the a and l letters also have pointed tails rather than square cuts, and the ascenders have slant cuts more than square cuts.
Ascender and Microsoft published an upgraded version of Trebuchet for commercial sale in 2009. This Pro version of Trebuchet includes small caps, stylistic alternates, text figures, as well as an additional weight with italics in black.
Usage
Creating documents in Word or PowerPoint, Trebuchet MS aims to give users a more "professional" feel with its high contrast between thick and thin strokes. It is a font capable of working at heading sizes, small sizes, and low resolutions. This makes it suitable for headlines and body text.
In recent years, Trebuchet MS has also become a popular font for web design. It is often used as the default typeface for many popular websites.
Many designers are turning to Trebuchet MS for their design needs because of the font's versatility. Graphic designers can design elegant logos, banners, brochures, and much more.
In conclusion, the Trebuchet MS font is a great option for designers who want to showcase their work. Give this font a try and see what you can do with it!
Font information
| | |
| --- | --- |
| Name | Trebuchet MS Font |
| Style | Humanist Sans-serif. |
| Designer | Vincent Connare. |
| File Format | OTF and TTF. |
| Font Licence | Free for personal use. |
| Type | Freeware Version. |
Font View
You can preview the typeface's characters before downloading it to get an accurate idea of how it will appear on your creative projects.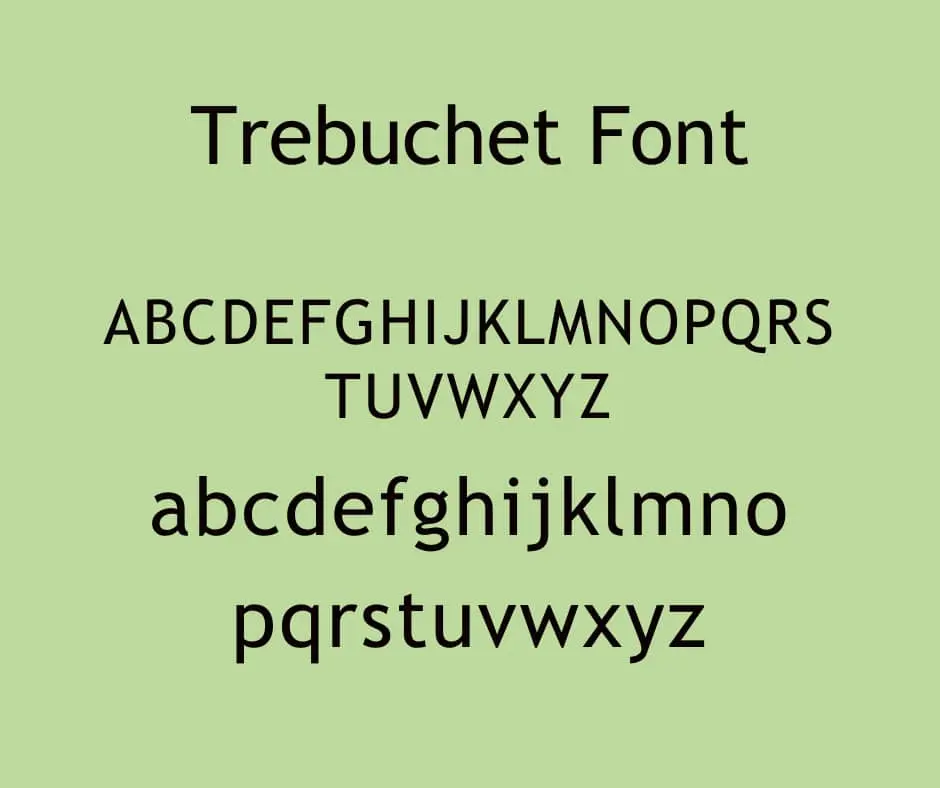 Similar Fonts
Here are some excellent free alternatives to the Trebuchet Font.
Progress Two.
Igna Sans.
Tans.
ITC Officina Sans.
Remo.
FF Meta.
Franz Sans.
Banjax.
Cabin.
Allerta.
Font Pairing
Below are some Trebuchet font combinations that you can use to create high-quality designs.
Gill Sans.
Northwell.
Fjord.
Georgia.
Download
This font is available below as a free download for your operating system and can be used in your personal projects for free.
Supported Languages
Afrikaans, Belarusian, Bulgarian, Catalan, Czech, Danish, Dutch, English, Esperanto, Estonian, Finnish, French, Gaelic (Irish), Galician, Hungarian, Icelandic, Italian, Kurdish (lat), Latvian, Lithuanian, Mongolian (lat), Norwegian, Polish, Portuguese, Romanian, Russian, Serbian, Slovene, Spain, Swedish, Turkish, Ukrainian, Uzbek (lat).
License Information
Trebuchet is free for personal use only. You can buy this font from the link below if you want to use it for commercial purposes.
FAQs
What type of font is this?
Ans: Trebuchet is a humanist sans-serif typeface designed in 1996.
Who created the font?
Ans: Vincent Connare created this font for Microsoft Corporation.
How can I download it for use on my computer or Mac?
Ans: You can download the Trebuchet font from our website if you wish. Trebuchet is compatible with both PCs and Macs.
Is there a Google Font that looks like this?
Ans: Allerta Designed by Matt McInerney is similar to the Trebuchet Font in Google fonts.
What is the most effective way to use it?
Ans: This font is suitable for body text and also for headings. If you want you can use Trebuchet on web pages.
Are you able to utilize this on an online platform?
Ans: Yes, this font is compatible with any online platform.
Can I use this font for free?
Ans: There is no charge for the personal use of the Trebuchet font.
Is this font compatible with the web?
Ans: Yes, this will work on the web but you need to buy the Trebuchet web font from the original license holder.
Are there any other free fonts like this?
Ans: "Progress Two" could be the best free alternative to the font.