Designed René Bieder by Campton font is a Sans Serif typeface font with a geometric skeleton inspired by Gill Sans and Johnston Sans. Campton has 9 weights and each has 2 styles (regular, italic). It has 2 demo weights, Bold and Light. In the free version, you can have the demo font only.
This font has 478 Glyphs which contains Latin uppercase and lowercase, number, punctuation, symbol, and many more. Galano Grotesque, URW Geometric, and Averta are mostly similar to this font. We are providing the demo version of Campton font. To download free Campton font scroll down to our download font section.
Usage
For its elegant look, you can use this font for all kinds of design purposes. You can create beautiful logos, banners, brochures, book covers, posters, magazines, business cards, product designs, posters and so many. It is also great for website and game development.
YouTubers can use Campton font for their thumbnail of content, channel art, and many more. So if anyone finds an interesting font for his project then I think this font would be perfect for him. Free Download is available on our website. To learn more about License, scroll down to our License Information section.
Font View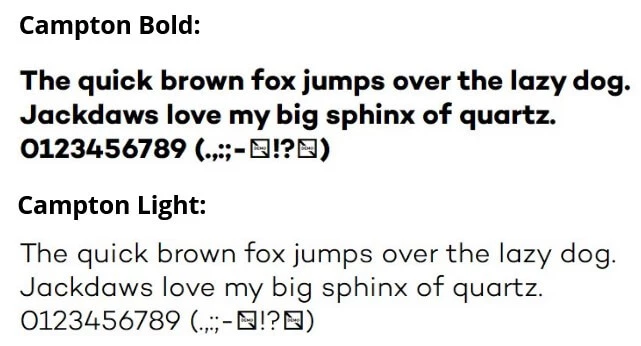 Campton Font Generator
Our Campton font generator lets you preview the font and download it. You can also download a preview of the selected font in PNG format for your convenience. Try it now and see what you can create.
License Information
Campton is a freeware font. You can use the demo version only in your personal project. To get the full family of Campton font or to use it commercially, Click on the link below.
Download
To download the Demo version of Campton font, hit the download font button below and enjoy this in your projects. If you have benefited from this, please comment in the comment section below.
Font Family
Campton Thin.
Campton Thin Italic.
Campton ExtraLight.
Campton ExtraLight Italic.
Campton Light.
Campton Light Italic.
Campton Light Demo.
Campton Book.
Campton Book.
Campton Medium.
Campton Medium Italic.
Campton SemiBold.
Campton SemiBold Italic.
Campton Bold.
Campton Bold DEMO.
Campton Bold Italic.
Campton ExtraBold.
Campton ExtraBold Italic.
Campton Black.
Campton Black Italic.
Explore More Fonts
FAQs
Is Campton safe to download and use in My PC and MAC?
Ans: Yes, It is 100% safe to download for both PC and MAC.
Is there any font similar to Campton in Google Fonts?
Ans: Averta font is similar to Campton in Google fonts.
Is it OK to use this on an online platform?
Ans: Yes, you can use the Campton on the online platform.