About The Font
The Gilroy is a modern sans serif font with a geometric touch, designed by Radomir Tinkov and released by him in 2016. The font has a very clean design, and it is easy to read. Gilroy has a minimal and modern look that is suitable for contemporary designs.
After being created for publishing, the Gilroy font family has been developed to meet today's typographical requirements. Uncompromising and precise in every aspect of design, this modern sans serif typeface comes in 20 styles with 554 glyphs, consisting of 10 uprights and 10 italics. It additionally has powerful OpenType features. Each weight has many language options, including an extended version too. It also includes tabular figures, fractions, ligatures, arrows, and more. Every main character has Unicode variants of similar characters. It is also supported as a Webfont.
Radomir Tinkov is a typeface and graphic designer. You can contact him through his website.
The Gilroy font was also called the "older brother" of the original Qanelas font family. There are 2 free Google fonts available similar to the Gilroy font: Questrial and Roboto Font.
You may download this font from our website at any time. It is a freeware font that is only for personal use. There are only 2 styles in the free version (light and extra-bold). To get it for free, go to the download section below.
Usage
The Gilroy font can be used in a variety of ways. It is a modern font suitable for headlines, logos, and other creative designs. It has a clean, minimalist style that is appropriate for contemporary designs too. It is a very sleek and professional font that will make a great addition to your branding.
Gilroy has a clean and simple design that makes it well suited for use on the web. Gilroy also has a wide range of characters, making it ideal for many projects.
It has a great look for formal implementation. But it doesn't mean that you can't use them in informal situations. It could efficiently work for web, signage, corporate, and editorial design like banners, text, logos, movie titles, and many more.
You will get 2 styles in the free version. But you cannot use them for commercial purposes. If you need to use the font commercially, you have to purchase a license from the owner who has the license to sell it. You are good to go. For general license inquiries, go to the License Information section.
Font View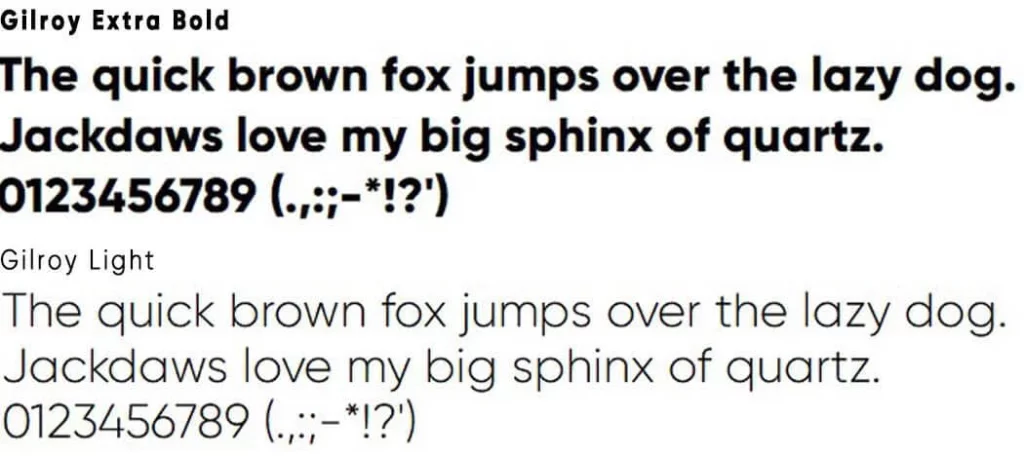 Font information
| | |
| --- | --- |
| Name | Gilroy Font |
| Style | Sans-Serif |
| Author | Radomir Tinkov |
| File Format | TTF |
| Font Licence | Free for personal use |
| Type | Regular |
Download
The wonderfully designed Gilroy Font is here for you to download for free. You are just a step away from having the font in your vault. Remember, this is a free font for you to download. Make sure you use it for personal purposes only. We are providing two styles in the free version. Please buy the font from the original license holder and use your copy for commercial purposes only. Hit the Download font button to download it.
Font Family
Gilroy Thin
Gilroy Thin Italic
Gilroy Ultra Light
Gilroy Ultra Light Italic
Gilroy Light
Gilroy Light Italic
Gilroy Regular
Gilroy Regular Italic
Gilroy Medium
Gilroy Medium Italic
Gilroy Semi Bold
Gilroy Semi Bold Italic
Gilroy Bold
Gilroy Bold Italic
Gilroy Extra Bold
Gilroy Extra Bold Italic
Gilroy Black
Gilroy Black Italic
Gilroy Heavy
Gilroy Heavy Italic
Similar to Gilroy Fonts
Language Support
The font support 100+ language like – Albanian, Alsatian, Aragonese, Arapaho, Aromanian, Arrernte, Asturian, Aymara, Basque, Belarusian, Bislama, Bosnian, Breton, Cebuano, Chamorro, Cheyenne, Chichewa (Nyanja), Cimbrian, Corsican, Croatian, Cyrillic, Czech, Danish, Dutch, English, Estonian, Faroese, Fijian, Finnish, French, French Creole (Saint Lucia), Frisian, Friulian, Galician, Genoese, German, Gilbertese (Kiribati), Greenlandic, Haitian Creole, Hawaiian, Hiligaynon, Hmong, Hopi, Hungarian, Ibanag, Icelandic, Iloko (Ilokano), Indonesian, Interglossa (Glosa), Interlingua, Irish (Gaelic), Istro-Romanian, Italian, Jèrriais, Karachay (Cyrillic), Kashubian, Kurdish (Kurmanji), Ladin, Latvian, Lithuanian, Lojban, Lombard, Low Saxon, Luxembourgian, Malagasy, Maltese, Manx, Maori, Megleno-Romanian, Mohawk, etc.
License Information
The Gilroy font has two free versions for personal use, but otherwise, it is a commercial font. You have to purchase the font from the original owner for commercial purposes. If you do not have a license, you cannot use it commercially.
FAQs
What type of font is this?
Ans: The Gilroy is a modern sans serif font with a geometric touch.  
Who designed the font?
Ans: The Gilroy font was designed by Radomir Tinkov and released by him in 2016.
Is it possible to download it for use on PC or Mac?
Ans: Yes, it is 100% safe and available for both PCs and Macs.
Does Google have a font that looks like this?
Ans: Yes, it has 2 similar Google fonts Questrial and Roboto Font.
How can it be used most effectively?
Ans: You can use Gilroy's font in many ways. The font is suitable for headlines, logos, and other creative designs.
What if I want to use this on an online platform?
Ans: The font can be used on any online platform, but only under a commercial license.
Is this font free to download and use?
Ans: Yes, this font comes in two free-to-download versions.
Is this font compatible with the web?
Ans: Yes, you can use this font as a web font.
Are there any other free fonts like this?
Ans: You could use "Roboto" as a free alternative to Gilroy font.